River Oaks Advanced Dentistry
If you are looking for a highly trained and experienced dentist in Columbia, you have come to the right place. With Dr. DuPuis' legacy for excellence, our practice is founded on a tradition of compassion and quality. Our dental office uses the latest state-of-the-art equipment and cutting edge technology and we uphold the strictest sterilization techniques. We know that many people may feel anxious about coming to the dentist, so it is our goal to make your visit with us as pain and anxiety free as possible. We view it as our mission to educate our patients about all of their oral health care options and to help guide them to choose a treatment plan that is most suitable and appropriate for their needs.
Office Tour
Scheduling Appointments
To make an appointment, simply call us or click here to Request an Appointment online.
Payment Options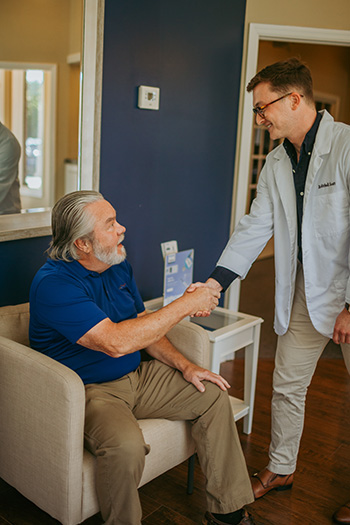 We believe that investing in your dentistry is one of the most important decisions you can make. Healthy teeth play an important role in maintaining a high quality of life. However, it is no secret that keeping your teeth healthy does require investment! Our fees are based on the quality of dentistry you will receive at our office including the quality of materials we use, the technology we use in order to achieve better outcomes, and the time, effort, and skill required in performing your needed treatment.
ALL insurances accepted*
For patients with no dental insurance, payment is due at the time services are rendered. VISA, MasterCard, American Express, Discover, cash, and personal checks are all acceptable forms of payment. We will make financial arrangements for large treatment plans, but these arrangements must be made prior to treatment being performed.
Patients who have dental insurance must provide a current copy of their insurance card in order for claims to be submitted properly. We are not a preferred provider for any insurance. However, we will file claims (excluding Medicare or Medicaid ) as a courtesy to our patients. The remaining balance that insurance does not pay is the sole responsibility of the patient, and the remaining balance must be paid the day that services are rendered.
*Participating provider with Always Care
Please note, online payments are also available. Call the office for details!
Convenient Location
Our office is located at 142 Leisure Lane, Columbia, SC 29210 with ample parking in our lot. Please enter your zip code or city, state below for door-to-door directions.