Meet Our Doctor
Mollie B. Duke, DMD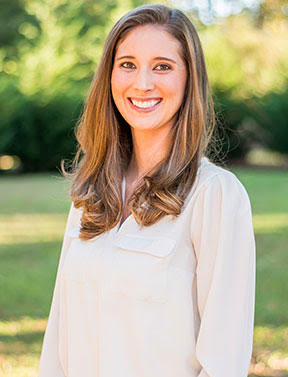 Dr. Mollie Duke was born and raised in Easley, South Carolina. She earned her Bachelor's in Biological Sciences with a minor in French from Clemson University. Dr. Duke then continued on to Charleston at the Medical University of South Carolina to earn her Doctor of Dental Medicine. She was awarded a four year Health Professions Scholarship from the Air Force. Mollie was elected class treasurer by her peers and participated in Give Kids a Smile, Dental Access Day, local free clinics, Habitat for Humanity, and many other extracurricular activities.
While at Clemson, Dr. Duke had met her future husband Josh during a visit home in Walhalla from his initial Army training. His first duty station was at Fort Stewart, Georgia which is right outside Savannah. After his two long deployments to Iraq and many weekend drives between Charleston and Savannah, they decided to tackle the rest of life together by getting married in 2010. Josh was so supportive of her dental education that he even volunteered to assist her for her dental boards!
Dr. Duke and her husband have welcomed a daughter Maddie and son Bryson to their little family. Their weekends are wrapped up in enjoying the outdoors with their children and two dogs. You may also find them exploring the newest coffee houses or watching a local baseball game.
Dr. Duke's passion for compassionate and comprehensive dentistry is showcased in her relationship with patients and her commitment to continuing education. She enjoys being trained on modern, predictable techniques that offer convenience, comfort, and esthetic outcomes for her patients. Dr. Duke also thoroughly enjoys interacting with children to get them comfortable in the dental chair. She is committed to establishing strong home routines and dental relationships to make each visit more pleasant than expected for the entire family.